Southern California Custom Homes
1306 Estelle Ln, Newport Beach from SHAK Cinema on Vimeo.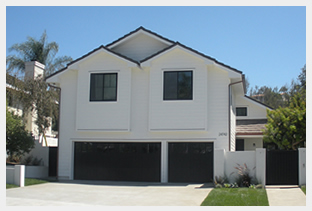 At JJJ Builders, we understand that building a new home is about more than just nails, lumber and paint. 
Your new home should be a place of safety, comfort and refuge for your family. 
Whether you are remodeling one element of your house or building a new home from the ground up, JJJ Builders is committed to exceeding your expectations. Regardless of your project's size, we are devoted to creating a home for you.
Our founder and principal, Jared Cefalia, has worked in home construction and renovation since his youth. A third-generation builder, Jared launched JJJ Builders in 2004 to bring more than 50 years of construction and homebuilding experience to families in Orange County and beyond.
Our architects and engineers have spent years working within the ever-changing and competitive Southern California residential market. JJJ Builders is intimately familiar with Orange County's beach communities, and can provide any look or feel you desire for your home.
From contemporary to colonial, modern to Mediterranean, cottages to castles, our staff can transform your dreams for tomorrow into the real world today.
Please visit our testimonials page to see what our previous clients have said about JJJ Builders. As a small, family-owned developer, we pride ourselves on the fact that most of our business comes from referrals and word of mouth.
Fill out the form on the right to request an estimate, or call (949) 307-9309 to discuss your project with our team. We look forward to hearing from you!
JJJ Builders is licensed, bonded, and fully insured (Lic. No. B877052) and has an A+ rating from the Better Business Bureau.